Musk Has Been 'Overly Optimistic' On FSD. What Does That Mean For Owners?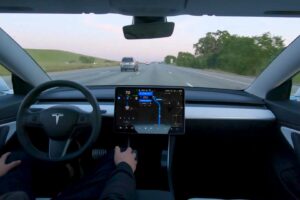 Tesla's so-called Full Self-Driving (FSD) driving assistant system has been at the center of several legal battles and it's frequently cited by enthusiasts as a feature that sets the maker of the Model Y and its siblings apart from all the other EV manufacturers out there.
With this being said, the very costly option (it's now priced at $12,000 if one were to purchase it outright, down from a previous $15,000) is still considered a Level 2 system on SAE's Levels of Driving Automation table, even though Elon Musk touted its future ability to make past and present Tesla vehicles capable of driving themselves without driver intervention.
Today, the feature can automatically follow the vehicle in front, change lanes, park the vehicle, steer on city streets, and stop at traffic lights and stop signs, but the driver must always supervise the vehicle and take responsibility for the car's actions.
https://www.youtube.com/embed/tlThdr3O5Qo?si=lr98PiVub-k4HeRL
During yesterday's third-quarter earnings call, however, the Austin-based EV marque's head honcho admitted that he has been overly optimistic about the system's progress in the past, which might not sit well with brand followers who took his word about what was to come and splurged on a feature that hasn't delivered on its promises.
"Obviously in the past, I've been overly optimistic about this," said Musk, referring to the progress of Tesla's FSD. "The reason I've been overly optimistic is that progress tends to sort of look like a log curve, which is that you have kind of rapid initial improvements, that if you were to extrapolate that with a rapid, fairly linear rate of improvement, you get to self-driving quite quickly, but then the rate of improvement curves over logarithmically and starts to asymptote. That's now happened several times," he added.
A timeline for when FSD-equipped Teslas will finally be ready to drive themselves is nowhere to be seen, but the EV maker – with Musk leading the way – says that as the feature improves, it will increase in value.
It's a story we've heard before, and in reality, the company is known for underestimating the value of FSD when owners are trading in their used cars, making it look like the so-called self-driving system is very valuable when it's of interest to Tesla and not so valuable when Tesla needs to pay for it.
In this context, somebody asked during the earnings call why the price of the feature was dropped if it's expected to get better, to which Musk replied:
"Well, we just wanted to make it more affordable, so more people can try it. Over time, the price of FSD will increase proportionately to its value, so the current price is kind of a temporary low."
Another question asked if Tesla is planning to accept legal liability for when FSD is enabled in its cars, and if so, when will this happen?
"There's a lot of people that assume we have legal liability [laughing], judging by the lawsuits, we're simply not being let off the hook on that front, whether we'd like to or wouldn't like to," Tesla's CEO said, but stopped short of providing a clear answer.
Referring to the Drive Pilot Level 3 system that Mercedes-Benz recently deployed in the United States, Tesla's vice president of vehicle development, Lars Moravy, said that it's important to remember that the German company's system is limited to a few roads in Nevada and some certain cities in California and that it doesn't work in certain road conditions.
"Our system is meant to be holistic and drive in any condition, so we obviously have a much more capable approach, but with those kinds of limitations, it's really not very useful," he added.
For those who bought the FSD pack and feel like they paid a lot of money for some broken promises, there's not much they can do except trade in their Tesla and get another one without FSD. The American car manufacturer had a one-time offer for owners who wanted to transfer FSD ownership from a used EV to a new one, but that expired last month.
Another, more reasonable option for those who don't have FSD on their cars is to subscribe to the feature for a monthly fee that's between $99 and $199. This way, they can test and see if it's what they want, and if it's not, they can always cancel the subscription.
Source: Tesla
Source: Read Full Article