VW Up GTI | PH Used Review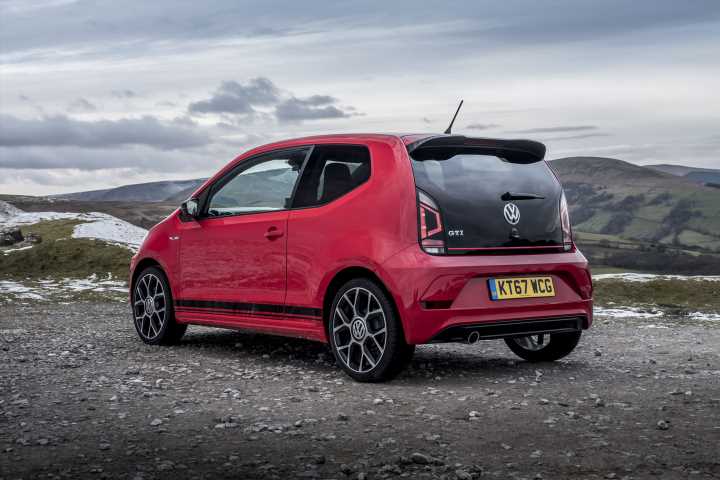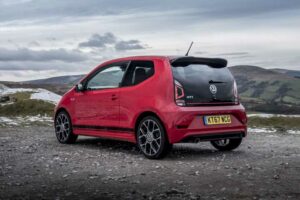 Not a unanimous critical hit, but commercially the GTI sold like it was going out of fashion. Which it was…
By Nic Cackett / Thursday, 19 October 2023 / Loading comments
Back then…
It's been five years since the Up GTI turned in the UK. While that time has flown in a way that has nothing at all to do with VW's warmed-up city car, it would likely seem like a long while ago even in a less turbulent era. And that's in large part thanks to its maker's fluctuating resolve when it came to the business of actually building and selling the smallest and most affordable tier of GTI ownership.
Back in 2018, the new model was sufficiently small and cheap for it to create an almost immediate order backlog, mostly because VW failed to anticipate just how popular a GTI starting at £13,750 would be in the world's most frenetic hot hatch marketplace. It allocated too few right-hand-drive cars, and by 2019 had withdrawn it from sale altogether as it mulled incoming WLTP emissions legislation. By the time it returned a year later, VW had gently jacked up the price, but the flagship still outdid sales expectations – right up to the point where its maker discontinued it for good at the start of 2023.
The question of whether or not the Up GTI wholly deserved all this attention was a matter of heated debate even when it was new. Few people complained about the initial asking price or the overall VW-brand quality of a speeded-up city car (both were at the heart of its popularity) but its maker was probably a little too quick to imply a spiritual connection to the Mk1 Golf GTI, thanks to the car's small size, its comparatively low weight and the 115hp produced by its dinky turbocharged three-pot. The suggestion at the time was that it had built another hot hatch for the ages, rather than just a mildly spiced version of its likeable runaround. Opinions differed. But, as ever, history would be the ultimate judge.
Nowadays …
If the Up GTI's size and low weight were something of a novelty in 2018, they seem almost like a revelation now. True, PH doesn't get to drive many city cars these days, but the tinny, old-school sensation of sitting in something so spartan (comparatively speaking) and unashamedly compact is a tonic to anyone who has endured the current crop of battery-powered, planet-sized SUVs. Plus there are actual instrument dials to look at and HVAC buttons to push and a mobile phone holder that really is intended to function as an integral part of the dash. Like all high-spec, colourful variants of the Up, the GTI wants desperately to be thought charming. And so long as you've got nothing against hard, shiny plastic and slightly squidgy seats, it is.
One of the model's chief selling points was that you were getting proper VW brand hatchback quality in a cheaper, smaller package. Since then, a handful of downsized electric cars have rewritten the rules regarding refinement and clever packaging – but only at formidable expense. With its super-light controls and doughy gearbox, the Up GTI seems every inch a conventional petrol-powered city car in comparison, and is frankly all the more likeable for it. No derivative of the Up is demanding to drive, but the souped-up version specialises in gap-finding, journey-shortening zip. And because it hovers endearingly close to one-tonne even with you sat in it, VW never felt the need to lash it to the ground; even on mildly stiffer springs and fatter, lower profile wheels, the GTI's untamed boisterousness still makes a Mario Kart track out of most one-way systems.
Beyond the confines of a town or city, familiar questions do still crop up. The intervening years have taught us much about 'fast' and while we're not especially fond of straight-line speed for its own sake, it's hard to deny that the punchiest Up is somewhat lacking in the performance department on the open road. The three-pot is very well matched and pleasingly spritely for as long as its peak torque is available, but beyond 4,000rpm its gameness for revs does not coincide with much more forward momentum. Of course, the upside to this limitation is that the GTI can be driven at maximum attack virtually anywhere you see a national speed limit sign. Dynamically speaking, it is hardly the last word in sophistication – one colleague described it as 'Tiggerish', which is spot-on – but its lightness, decent grip and irresistible pluck do tend to keep you onside.
Should you?
Ultimately, the argument for buying an Up GTI and enjoying it while you can is the same as we could trot out for many cars of its era: you simply won't get to experience its like again. The go-faster city car was a vanishingly rare breed five years ago; certainly, no manufacturer is wasting its time on them now. And while it's also true that an incoming generation of small electric cars will easily outperform Volkswagen's tiny curio, it is very unlikely that they will rival it for guiltless, amenable fun. Not least because they will invariably weigh and cost at least twice as much.
This thought does tend to double down on the GTI's comparative likability as it moves exclusively into the used market. The punchiest Up was always easy to get on with because, like most cars of its type, it is simple to drive and very cost-effective to run. But the idea that there will be no turbocharged three-cylinder-powered replacement for it has the inevitable effect of making you cling to its merits. So while the limitations of its tall body and narrow footprint are probably more prominent than ever before, you're also more inclined to forgive them as you rev out every cog and lean cheerily into the next corner.
Added to this – and thanks to its popularity when new – a good example is relatively easy to track down. At the time of writing, there are 30 on PH alone, ranging from £16k for a low-mile example to £11k for something that's seen a few more miles and owners. Obviously, you can choose between the three- or five-door model, although we wouldn't recommend the latter as it upsets the sporty proportions. Ostensibly, the GTI was updated in 2020, but that amounted to little more than a new brand logo, meaning that, condition aside, the car is virtually identical no matter which one you go for. Its impressive resistance to depreciation suggests that secondhand buyers continue to find much to like. More than ever, it's easy to see where they're coming from.
---
SPECIFICATION | VOLKSWAGEN UP GTI
Engine: 999cc, three-cyl turbo
Transmission: Six-speed manual, front-wheel drive
Power (hp): 115@5000-5500rpm
Torque (lb ft): 148@2000-3500rpm
0-62mph: 8.8 secs
Top speed: 122mph
Weight: 1070kg (EU, with driver)
MPG: 53
CO2: 121g/km
Price: £16,540 (£17,985 as tested
Volkswagen Up GTI | PH Used Buying Guide
2020 Volkswagen Up GTI | PH Review
Source: Read Full Article