Next-Gen $25,000 Tesla EV To Be Produced In Germany: Report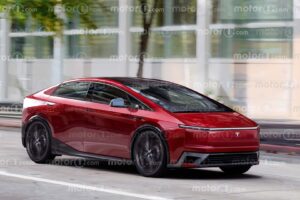 Tesla CEO Elon Musk recently had an opportunity to visit the Tesla Giga Berlin-Brandenburg plant in Grünheide near Berlin, Germany.
Tesla's boss congratulated the team and praised the factory, which makes the Tesla Model Y for the European market.
He also revealed that the entire factory will be covered with art. There are already multiple works of graffiti, but it seems that it's just the beginning in terms of decorating the place.
However, the most interesting news is that the Tesla Giga Berlin plant is expected to be engaged in Tesla's next-generation, affordable electric car model.
According to Gigafactory Berlin News channel (@Gf4Tesla / X), which covers plant-related news, Elon Musk announced during his visit that the upcoming €25,000 electric car (in the U.S. known as the $25,000 electric car) will be produced in Berlin.
We tried to find additional confirmation of this report, but apparently, the speech was limited only to employees and there is no video. The news has been shared by a number of Tesla-oriented websites (including Teslarati and Torque News), which indicates that it's considered probable.
As we know, Tesla's next-generation model – essentially the affordable electric car and its autonomous Robotaxi cousin – is assigned to the Giga Mexico plant (to be built). However, one report indicates that the car might be developed and initially produced in Texas.
The affordable Tesla EV is promised to be "much more conventional" than the Tesla Cybertruck. It will also be "cool", "beautiful" and "utilitarian," according to Musk. The vehicle is also expected to be produced at a high volume – potentially millions of units annually.
Production of the $25,000 car in Mexico and the €25,000 equivalent in Europe would probably make a lot of sense. There might be also another factory in China (or wider Asia). Regardless of the site selections, most likely we are at least a few years from the launch of this new model because Tesla first has to complete the development and build new manufacturing facilities (with an entirely new manufacturing process to radically cut costs).
Here is one of the latest flyover drone videos from the factory, which shows us the current size of the plant:
https://www.youtube.com/embed/XwpzKqYrQCE
Source: Read Full Article