Why I decided to sell my Honda City & how I bought the new Verna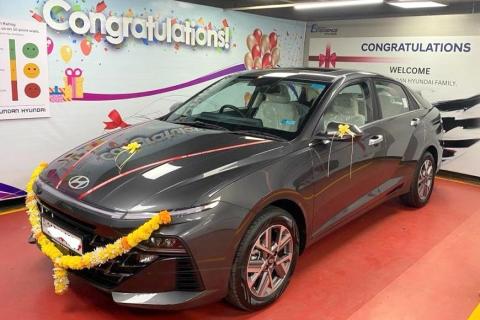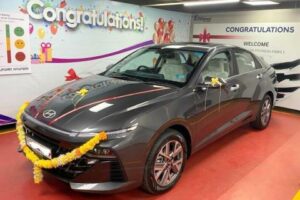 It was clear to me and my wife that we needed a sedan. I have nothing against a proper SUV, but the compact SUVs failed to impress me.
BHPian harikr recently shared this with other enthusiasts.
My Titan Grey Verna SX(O) IVT
Hello BHPians,
I got the delivery of my Verna SX(O) IVT, Titan Grey on Oct 12 from Kundan Hyundai, Pune. Let me give a brief on the buying decision and process.
Reason for purchase:
I was using a pre-owned 2014 Honda City SV CVT which had crossed 1.15 Lakhs km in August. The car had a perfect powertrain but was facing multiple issues with suspension, steering, starter motor etc. Had replaced the complete suspension setup in March from GoMechanic, Coimbatore (I was in Coimbatore for almost a year). They did a pathetic job and even after multiple visits to various garages, the issues were not resolved to my satisfaction.
Afterwards, I encountered a dog hit at ~90kmph on a one-weekend run to Kerala which destroyed the front end. Had to replace the radiator, front cross member, bumper, fog lamps etc. The insurance claim from Acko was a pain which demands another whole write up, which I will do in the insurance section. Repair took two weeks and the car was back on the road.
One month down the lane, my cousin took the car for a drive and rear-ended a Slavia. From outside, it seemed like the rear bumper of Slavia took most of the impact, the City had some damages too (broken ambient temperature sensor, slightly bent body panel etc). Coming to August 2023, one fine day the car began to refuse cranking even though the battery was charged. Got stuck on the road 2 times for almost half an hour. It was diagnosed that the key cylinder had some mechanical issue which prevented it from engaging the starter motor. Solution was to replace the complete key set. Initially thought of getting it done along with steering rack replacement (it was giving the cracking noise at times, once it got stuck at the left end position). But I was a little sceptical about spending again on a pre-owned car which was giving me one issue or the other every time I drive it for the past year. So, I finally made the decision to drop it and go for a new car.
It was clear to me and my wife that we needed a sedan. I have nothing against a proper SUV, but the compact SUVs failed to impress me. It is my opinion; everyone has their own. We needed a proper boot space, as we drive around a lot, and we are not light packers. I was happy with my Fiesta as well as City in the long drives. I have driven around a lot in my friend's Ecosport, my sister-in-law's Brezza, and my cousin's Creta. All of them failed to connect with me. With the conditions already good or improving on most of the roads I frequently drive, I feel a sedan will be good for me.
Cars Considered:
Honda City:
I was in love with the no-nonsense ownership experience with Honda in general (other than the last 1 year when multiple accidents and my foolish decision to go with Go Mechanic at Coimbatore). Honda cars in general have good reliability too. Contacted Deccan Honda and Garve Honda in Pimpri. Deccan Honda was too slow in response. Took their sweet time to arrange a quote and a TD.
Garve Honda was prompt in their responses and arranged a test drive for the car. Liked the car in general, it was spacious, the drive was reasonably good, and almost like my old City. ADAS and a few other features were good additions. The tyres were too narrow, it was always the same with City. The ICE was pathetic. Cannot see properly on a sunny day due to its positioning and orientation, and it lacks the premium feel for a ~20 lakhs car. Still, the car was a strong contender in my list.
VW Virtus:
What a drive! The car was so nice to drive. Seating position was optimum, the drive felt so placed. But the interior plastics, what was VW thinking? I could see plastics like the one that was in my first family car M800 long back. Also, there were squeaks and rattles on a 3000 km run car. Never expected it from a VAG car. I was part of the VAG group for almost 6 years in my career. I know how well they monitor quality control in most parts of the world, but with India 2.0 they have adopted some new ways. Somehow the overall VAG feel didn't come in the car. I felt that the servicing is still a hit or miss, especially if you go out of the major cities.
Skoda Slavia:
Took the quote, but never took a TD as the car was almost the same as Virtus. Servicing was again a hit or miss.
Hyundai Verna:
I was a little worried about the front look when I saw the pictures. But I liked it once I saw it in the flesh. It is futuristic and kind of grows on you. Drive was almost like City but liked Verna slightly more. TD was offered on a Turbo DCT which I didn't want. I asked around all the dealerships in and around Pune for an IVT version for TD but couldn't get one.
Garve Hyundai said that they would check if they could arrange a customer vehicle for TD. I was really surprised by this offering and said no. I cannot do that to another person as I hate someone doing it with me. Kundan Hyundai had a display car for IVT. Visited their showroom and liked the car in the first look.
The all-white interior (They call it beige, but it is whiter than beige) was a little concern as I have a 5-year-old kid who loves keeping his feet on the seat with his shoes on for most of the time. Took a TD in the DCT version. Man, what a drive. It really felt nice. I even considered going for it. But my driving style doesn't need a DCT. And the DCT system in its various names, has always had a troubled history in India.
However, other aspects like Level 2 ADAS, Bind spot assist, powered driver seat (albeit powered height adjustment), a wonderful 10-inch display, ambient lights etc were really wonderful. Boss speakers failed to impress me, but still, it is better than others. The ADAS worked like a charm. The option for a 7-year extended warranty was a cherry on top. Front parking sensors are also good for such a long low-slung car.
Suzuki Ciaz:
Took a TD, but I didn't like the car at all. It feels aged, and lacks most things offered by the competition. Only points in its favor are the lower price tag, and proven trouble-free ownership. But when you see five or six years down the lane, Ciaz will feel so outdated. Hence dropped it.
So, the true comparison was between City and Verna for me. Visit to the Honda dealership was a little sad. Other than the rush in front of the Elevate, City and Amaze were not calling for many visitors. Yeah, they are established models, however, the long-term existence of the company in India seemed troublesome for me. I will be excited if time proves me wrong as Honda builds some reliable machines.
With City selling nearly 2000, Amaze in 3000 plus, and Elevate in 5000 plus (being a new launch, this will stabilize shortly) total sales for Honda is less than 10000 units. I really wonder how they will manage in the long run. I have no experience in running a company, but I am sure Honda management has some plans for this. For me, it didn't look very promising in the long run. Whereas Hyundai is selling north of 50,000 cars in a month.
While accepting that Verna sales is peanuts in comparison to Creta, Hyundai as a company is here to stay. Since I plan and hope to keep the car for a very long period, my preference was to go with Hyundai. Better ICE, better tyres, better ADAS, powered seats etc made me and my wife take the decision in favour of Hyundai. The GNCAP 5-star rating came as a bonus. I was expecting 4 stars or above considering the safety kit offered. And in the end, your driving and basic behaviour are a lot more important than these passive safety kits.
Booked the Titan Grey SX(O) IVT from Kundan Hyundai on 22nd September. There was some confusion on Titan Grey vs Starry Night, but finally went for Titan Grey. Paid the initial booking amount of Rs 25000. They didn't have the vehicle in ready stock, but one was in order with Hyundai already. On 26th Oct the chassis number was allotted, and the car was in shipment the next day.
Finance was arranged by SBI. The processing was quick and easy. Only issue that I faced was that Kundan Hyundai gave a quotation for normal MH registration whereas we had asked for BH registration. We had to wait for almost 3 hours at the bank to get the quotation changed and the application entered again.
My old car was exchanged at Hyundai itself as they offered the best price considering the accident history. The car was supposed to reach the dealer yard on 29th September and loan disbursement was planned for 30th September after PDI. The SA at Kundan Hyundai was sharing the tracking details for the truck daily and on 28th September evening, it was clear that the vehicle was not reaching as committed due to some logistics issue.
SA was asking me to release the loan amount on 30th as the sale was planned for September and it will be a help for him to meet his target. I was sceptical about it, however released the loan on September 30 without seeing the vehicle or even confirming the month of manufacturing as I understand the pressure on these sales people to meet the targets (Hyundai VIN does not have a month of manufacturing. It is only on the vehicle as part of the chassis number as the 19th character).
But that was a mistake. The SA went ahead and got the insurance issued the next day without even the vehicle reaching the yard. I shared my concern with the team at Kundan Hyundai, they told me that the insurance discount offered to me was valid for September so they had to process it. I did not believe it but accepted it for then as I still had almost 40% payment with me.
Finally, the car arrived at their yard on 3rd October. Went for the PDI. It was a July 2023 manufactured car. I was expecting at least August manufactured one. Was a little worried, but a detailed PDI didn't show any serious issues. ODO reading was 10 km. Tyres was third and fourth week of July manufactured. So, car assembly should be completed in the fourth week of July too (I am hoping).
Gave the go-ahead for registration and transferred the balance payment. Now comes the surprise. I was just going through the Hyundai website to see the extended warranty terms and conditions. I was surprised to see that the price offered by my SA was much much lesser than the amount quoted on their website for the 7-year/1lakh km package. I called the SA and asked him to check it and he informed me that he would check and revert. Got a call back in 30 minutes saying that whatever he quoted was correct and I could ignore the amount from the website. I told my wife that we need to keep more money ready to be transferred as the SA is wrong.
Just as I expected, the next day he called me apologizing that he made a mistake, the amount on the website was the right one and the Hyundai dealer system was not accepting the amount quoted for an extended warranty while doing the invoicing. I told him that I was ready to pay whatever you offered in writing, and I could not pay more. Then he was literally crying saying that he would have to pay for it from his pocket and his monthly salary would not match the difference amount.
I was actually ready to pay but was really surprised at his ignorance / irresponsibility in checking the amount even after I highlighted it. I asked him to drop me an email with all the details about extended warranty; how much is the actual amount, how much difference I need to pay, why the mistake happened etc. He accepted and disconnected the call. After 10 min he called again and said that he would give a 5k discount on the total extended warranty price if we close it now. I asked him to mail me all the details and then only I will make the payment. Got a mail from his team lead this time stating the amount (discounted by Rs 5000) to be paid for the warranty. I paid for it and closed the deal.
There were some hiccups on the Form 60 required for BH registration. The form given by the office did not have "Form 60" written on the top. So, RTO rejected it. All details were there as required, but the title was not there. Anyway, resubmitted the form and registration was done on 10th October.
Delivery Experience:
We wanted to take the delivery on a specific muhurat as per our beliefs. So reached the dealership a good 1 hour before the time. I had opted for 3M ceramic coating from Hyundai itself as the rate was matching with 3M outlets. Also had asked to add a spoiler. Payments for all these were made, completed the documentation. SA said that the car is in their delivery area downstairs in the basement. So, I went with him to check the car one more time. Family waited upstairs in the waiting area. Car was all shiny from the outside due the ceramic coating. Went on and opened the door and I was surprised and depressed.a
The white (or beige) area on the dashboard was completely dirty with black fingerprints. Same was the case with the centre armrest. Driver and co-driver seats plastic coverings were half removed on the bottom part, there were dirt marks there as well. Floor was covered with muddy foot marks. Windscreens had finger marks. It was such a sad feeling. I scolded the SA. I said that I was not taking the delivery of this vehicle. Again, he was apologizing (third apology from him). He called the 3M team inhouse and asked them to rectify it. 3 people were put on the job, and they did a great job. All the dirt was removed, white dashboard became white again. Floor area was thoroughly brushed and cleaned. They checked every point in detail now and did a proper job.
Finally, the muhurat arrived and took the delivery of the grey beauty together with the family. Service advisor was introduced to and he explained the features and settings. While showing the wiper functions, it was observed that there was no water in the washer fluid reservoir, which was immediately filled with plain water. Rest all things were working well including the front crash detection.
Car was not moving forward as the flower garland in the front was being detected as an obstacle ahead. So had to arrange its height and took the car out. Bluelink was not getting activated as the sales information was not updated yet in the Hyundai server. SA said that he would follow up with the team and get it closed soon. Pleasant surprise was that the car had more than 50% fuel in it. I did see some technician filling it up after the cleaning from a large can. I assumed it was some minimum fuel they were filling. Then SA said that by mistake they added fuel that was planned for their TD vehicle, and they are not removing it now. I was ok with that.
Few pics of the delivery:
All set for delivery
The congratulations card could have been smaller. Can't see the car.
Bluelink was activated 3 days after delivery. However, the validity of the 3-year subscription starts from the date of delivery.
The irritating "Children crossing" warning was disabled the next day. It was not part of the ADAS but was part of the navigation maps.
Took the car for a weekend drive to Lavasa. It feels so thrilling to drive. ADAS is functioning as expected. Did not face too much interrupting. Handled well on the curves and the NA engine with IVT was also good to drive. Paddle shifters do respond well to upshifts. A minor lag is observed in downshifts which is inherent to CVTs. As expected, the white interior is going to be a pain to maintain, but car cleaning is therapeutic for me. So, I am ok with it.
Since Verna is still not seen in large numbers, people do turn around to look at the car.
A pic from the Lavasa trip
Waiting for running in for 1000-1200 km to take her on a proper highway run as well. I took her on a short drive to Lonavla via the express highway. Didn't rev up the engine too much and didn't keep the engine running at constant rpm for long. I got around 18 km/l efficiency. Lavasa drive gave me 10km/l. Both are values from the cluster and not measured properly. Will update once the running-in is completed.
Check out BHPian comments for more insights and information.
Source: Read Full Article