Tesla Cybertruck RC Unit Spotted Upclose At Las Vegas Supercharger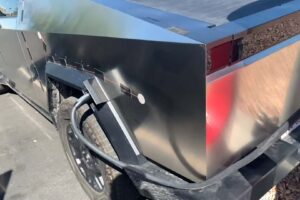 A Tesla Cybertruck release candidate (RC) unit was spotted while replenishing its battery at a Las Vegas Supercharger yesterday by the YouTube user Tesla Uber Guy, who filmed the encounter and published a short video on his channel, which you can watch embedded at the top of this page.
The first thing that caught our attention was that the pickup was parked very close to the stall itself, and with a tow hitch attached, it almost touched the "Tesla vehicle charging only" sign pole. This, coupled with the position of the charge port next to the rear-left wheel, makes the cable stretch quite a bit, compared to a Model Y which has the charge port next to the stop light.
The problem lies with the Supercharger V2 and V3 cable length, which doesn't seem to be sufficient for the size of the Cybertruck. Luckily, V4 is on the way, with multiple stations already operational in Europe, which has a longer cable, measuring about 10 feet. This should be more than enough for multiple Cybertrucks charging at the same time.
Then, there's the "RC_BUILD ENGINEERING PROTOTYPE" lettering on the sides and tailgate, plus the multiple wires that are glued onto the bodywork, which states the obvious fact that this isn't quite a production-ready unit.
In the past, the Cybertruck was spotted wearing multiple camouflage wraps, including a Ford F-150- and Toyota Tundra-like covering, poking fun at two of the best-selling internal combustion-engined trucks in the United States.
Deliveries of the delayed all-electric pickup are expected to begin sometime this month, with the first units presumably going to Tesla employees, as is usually the case with the company's new models, while reservation holders will get their hands on the highly anticipated EV a bit later.
The Tesla Cybertruck was unveiled in 2019 and – based on the numerous sightings – is expected to be available with air suspension, rear-wheel steering, dual-motor all-wheel drive, an interior ambient lighting setup, and a smaller-than-expected front trunk or frunk.
As always, we'd like to know what you think about the video embedded above, so after watching it, head over to the comments section below to give us your thoughts.
Source: Read Full Article