Tesla Cybertruck Spotted Next To Rivian R1T Showing Size Difference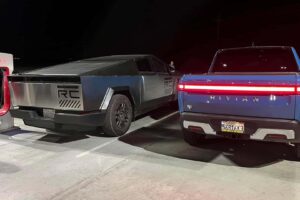 One of the biggest unknowns regarding the upcoming Tesla Cybertruck was and still is its size, but a set of new photos posted online on the Cybertruck Owners Club forum shed some light on the matter.
In the images (embedded below), a release candidate (RC) Cybertruck is stopped at a Tesla Supercharger, and a Rivian R1T is parked right next to it, giving us an idea of what to expect when the angular all-electric pickup hits the market toward the end of this year (probably).
Judging from the photos, the Cybertruck seems a bit wider and longer than the R1T. For reference, Rivian's pickup measures 217.1 inches long, 81.8 in wide (with the side mirrors folded), and 78.2 in tall (with the antenna accounted for and the suspension in its highest setting).
With this being said, a Cybertruck reservation holder recently managed to measure the width of a pre-production truck with a tape measure, and the numbers he got were 78 inches including the rear tires (but without the side mirrors), while the rear bumper was measured at 72 inches.
During Tesla's second-quarter earnings call, Elon Musk, the EV maker's CEO, said that the marque's first-ever pickup will be under 19 feet (228 in) long with a bed longer than six feet (72 in), allowing it to fit in a regular car garage.
By comparison, the Ford F-150 Lightning, which is another American-made all-electric truck, measures 232.2 in long, 83.6 in wide (with the side mirrors folded), and 78.3 in tall, as per the official brochure. In other words, it might be that the Cybertruck will slot between its two main rivals in terms of length, but we'll have to wait for the delayed delivery event to find out more, assuming Tesla will release this information when the first delivery-spec units are ready to be shipped.
The Austin-based EV maker's first pickup was supposed to debut at the end of the previous quarter, but that never happened, leaving the estimated two million reservation holders without a tangible launch date.
As always, we'd like to know what you think about this, so head over to the comments section below to give us your thoughts.
Source: Cybertruck Owners Club
Source: Read Full Article