Tesla Dismisses Claims Of Health And Safety Issues At Giga Berlin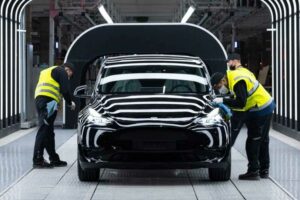 Tesla has dismissed claims of inadequate health and safety provisions at its Giga Berlin plant by German union IG Metall and recent media reports in Germany.
The EV maker said in a written statement that protecting its workers' health is a top priority, according to Reuters. Tesla noted that workers received training on necessary safety measures, as well as protective clothing. The company also said local authorities subject the plant to regular checks to ensure that safety measures are being respected.
Tesla came under scrutiny over the past two weeks after German media reported an unusually high number of work-related accidents at Giga Berlin, which employs approximately 11,000 workers.
Citing documents from Brandenburg state's authorities, reports claimed that some accidents required workers to take at least three days of sick leave, while others included serious injuries such as burns, hydrochloric acid, or amputated limbs. Tesla did not address these media reports regarding the number of accidents or workers off sick at the plant, though.
Brandenburg state's authority on occupational safety and health told Reuters its records showed there had been six serious work accidents at Giga Berlin in 2021 and 2022, resulting in over six weeks of hospital treatment or permanent physical damage. The authority's staff visits the plant every two weeks, with unannounced checks every 6-8 weeks, it added.
Gallery: Tesla Giga Berlin (Tesla Gigafactory 4)
Tesla did not discuss the specific claims of German union IG Metall in its statement either.
On October 9, Germany's largest union said membership numbers from Tesla workers were rising steeply as Giga Berlin employees grew increasingly concerned about health and safety as well as overwork.
IG Metall said in a statement that Tesla employees complained about safety hazards, including extreme workloads caused by staff shortages and overly ambitious production targets.
The union blamed the lack of staff and inadequate safety measures for the purported high number of accidents at work. IG Metall also said that situations where around 30 percent of workers were signed off sick are not uncommon.
According to the labor organization, more than 1,000 workers showed up at the plant on Monday wearing stickers calling for "safe and fair work."
Unlike Giga Berlin, Tesla's US plants are not unionized, although there have been attempts in the past to organize.
In 2017, UAW tried to unionize workers at the Fremont Factory, but the initiative didn't get enough traction to get to a vote. Another union campaign at Tesla's factory in Buffalo, New York failed in February, with the Workers United union accusing Tesla of terminating dozens of workers who campaigned.
Source: Reuters
Source: Read Full Article