Tesla Model 3 Facelift Bows At French Owners Club Event, US Debut To Follow?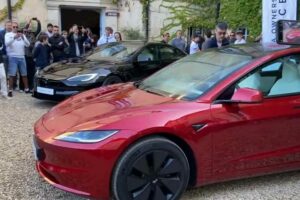 Ever since the facelifted Tesla Model 3 (also known as the "Project Highland" Model 3) debuted at the end of August, the refreshed version of the Austin-based company's cheapest car has made its way to several car shows in Europe, and this last weekend it was even part of a Tesla owners club event in France.
As you can see in the video embedded below, posted by @EstherKokkelman on her official X (formerly Twitter) account, a red Model 3 was revealed to dozens of brand enthusiasts who were probably eager to check it out in detail.
Parked next to a Model S and a Model X, the smallest car in the American EV maker's portfolio was previously shown at the 2023 Salon Automobile Lyon, where Tesla also showed the Model Y.
In Europe, the Model 3 is among the best-selling plug-in cars. From January to July, it ranked third overall on the Old Continent, with 48,904 units sold – outranked only by the Volkswagen ID.4 and the Tesla Model Y, so it's safe to say that the entry-level EV is one of the most popular zero-emissions cars in Europe.
At the same time, Tesla vehicles are by far the most popular EVs in the United States, having sold an estimated 325,291 cars in the first half of the year, whereas the next 19 brands combined managed to push a smidge under 215,000 EVs in the same period.
With so many cars on US roads, Tesla's decision to postpone the refreshed Model 3's launch is difficult to understand. In Europe, the first deliveries are expected to begin this month, with thousands of brand-new cars spotted in Chinese ports waiting to be shipped, but as far as the US is concerned, we still don't know when the Elon Musk-led manufacturer will begin production of the so-called Model 3 "Highland."
Gallery: New Tesla Model 3
One theory is that it may be revealed on American soil during the Cybertruck delivery event, but there is no official information to confirm this. Come to think of it, the Cybertruck event date is unknown, too, with the previously mentioned end-of-quarter estimate having come and gone.
With this being said, though, Tesla isn't sitting on its laurels, as there has been at least one sighting of the refreshed Model 3 on US roads after the car's reveal in Europe.
But what do you think: will we get the updated EV in America this year or will we have to wait until next year to get goodies like the rear display and ambient lighting? Let us know in the comments section below.
Source: @EstherKokkelman (X) via Teslarati
Source: Read Full Article