Need a safe automatic car on a 15L budget: Venue vs i20 vs Amaze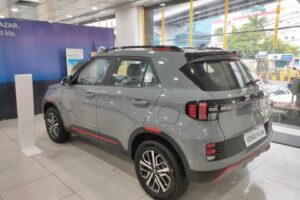 I drove a Taigun 1.5 DSG earlier but somehow the Venue really pulled my heart strings.
BHPian saikishor recently shared this with other enthusiasts.
Guess someone else has posted a similar thread, but I have an extensive list to choose from and hence a new thread. I am looking for a proper automatic under 13 lacs, maybe stretchable to 15 lacs on road. I made an excel sheet with some potential options. I did check out 3 cars from my list(didn't test drive one as it wasn't available).
Requirements:
Proper automatic(AMT in very few cases/cars)
Decent safety kit and rating
Good service and reach
Should be under 13lacs on road stretchable by a lac
Renault Kiger: I have eliminated this car from my list. It feels so cheap especially since I drove it after I drove a Venue N-line. The drive mode selector itself felt so cheap. The horn felt like it was placed under my seat. There was literally no insulation, as I could hear everything outside of the car. And when I asked this to the sales guy, he was like saar it is a safety feature as you need to hear what is going on outside the car
Hyundai i20 N line: The facelift version of this car hasn't arrived at showrooms yet but there was a pre facelift version inside the showroom. I liked the car and would like to reserve my final statements after I take a test drive.
Hyundai Venue N Line: Man if I had 17 lacs with me(or rather my dad), this would be the car. I fell in love with it within the 3-4 kms that I drove it. The exhaust was sweet, engine felt really exciting. I drove a Taigun 1.5 DSG earlier but somehow this Venue really pulled my heart strings. This car is still on the list, but not sure if we would actually end up buying it
I am attaching a picture of the choices that I have shortlisted. I would like to know if I missed out on any car. I will update this thread once I do more test drives and visit more showrooms.
Here's what BHPian thefonz had to say on the matter:
If you can stretch your budget and I see you have already put it in your consideration, go for the Virtus and GT plus if you can.

Just came back from a 400km round trip and thoroughly enjoyed the drive.

Roughly 150kms stretch was a single lane "highway" with no divider and trucks, buses overtaking from left, right and Center.

I'll be honest, I am new to driving such distances but because of the control the car offers, the feeling of safety, the power that's available just a tap of the pedal away and the confidence that come with it, it was a breeze. I have a 6 year old and wife who accompanied me, and all were happy with the space and convenience at offer.

It's truly sheer driving pleasure at a mass market affordable price.
Here's what BHPian inwester had to say on the matter:
I had written in response to someone else's query with all the proper automatics with 6 airbags and turbocharged engines. You might find it helpful.

Originally I had excluded CVTs, mainly because of my dislike for it, but you can add Kiger/Magnite/City etc. to the list.

Here are the results make/model/variant in ascending order of ex-showroom price, under 20 lakhs.

1) Hyundai i20 – Asta (O) / N-Line 1.0 Turbo DCT: 11.87 lakhs

2) Maruti Suzuki Fronx – Zeta 1.0L Turbo 6 AT: 12.05 lakhs

3) Hyundai Venue – SX (O) / N-Line DCT 1.0 Turbo: 13.23 lakhs

4) Kia Sonet – GTX Plus 1.0 Turbo Petrol DCT: 13.69 lakhs

5) Kia Carens – Prestige Plus 1.5 Turbo Petrol DCT 7 STR: 15.74 lakhs

6) Skoda Slavia – Style 1.0 TSI AT: 15.99 lakhs

Full list here.
Here's what BHPian car_guy1998 had to say on the matter:
If you have the budget, why not look at Verna if you are considering Venue? It has scored 5 stars in GNCAP and also, it has better rear seat space and comfort, reliability, good looking interiors and the engine (1.5 NA IVT) is pretty smooth and adequate for your usage though you can get 1.5 Turbo SX DCT (my favourite of the lot in Verna) within your budget only if you are willing to compromise on DCT issues.

IMO, at the price of Venue N-Line N8 DCT, you can get a Verna SX IVT with all bells and whistles and also with better rear seat space. My friend had bought the same for around ₹17L in August and couldn't be happier with it.
Here's what BHPian bijims had to say on the matter:
From the budget and requirements, here are my recommendations:

1. Tata Altroz XZA Plus (O)(S)

The top-of-the-line Altroz costs exactly 13 lakhs on-road and comes with best-in-class safety and a good feature list too. Although the engine isn't the best in the segment, it gets the job done and the DCA ensures seamless shifts as well.

2.Honda Amaze Elite Edition CVT

The special Elite Edition CVT of the Amaze is priced under 12 lakhs and is a decently equipped sedan, and a good option to consider if you are into sedans.

3. Hyundai i20

The i20 is one of the most feature-loaded hatches out there, and if you want to remain under 13 lakhs, the Sportz IVT variant is the way to go, else the Asta, or perhaps for an even sportier ride, the i20 N-Line would be a great pick.

If you are indeed willing to extend your budget, then you can consider the Brezza AT, Venue DCT, and Sonet DCT/ TC AT. The Venue and Sonet are decently equipped even in the S(O)/HTX trim and have almost all the bases covered. The Venue now comes with 6 airbags standard as well.
Here's what BHPian Small_Bot had to say on the matter:
If the budget can be flexed a bit, what about the Brezza VXI AT? I think it costs a bit under 14 lakhs on road, Chennai. Not sure about your city.

No-nonsense car, good AT, good fuel economy, the platform it is built on has achieved decent crash test ratings in the past.

It also is a bit more spacious than most other cars here.

If form factor is not an issue, check out the base variants of the Honda City CVT. They seemed value for money and probably a larger car than your initial options.

I personally did not like the Venue, because it had horrible fuel efficiency in traffic, was slightly smaller inside and the crash test ratings are unknown (though its sibling Sonet had a poor showing in crash tests).
Read BHPian comments for more insights and information.
Source: Read Full Article