UK Tesla Owner Reimbursed $10,000 After FSD Lawsuit Settlement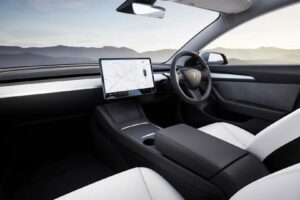 A Tesla Model 3 owner in the UK who had sued Tesla for allegedly failing to meet Full Self-Driving claims settled the case outside of court.
Ed Butler, who shared the story on the Tesla Motor Club forum (via Drive Tesla Canada), had requested Tesla to reimburse him the 5,800 pounds ($7,100) he had paid extra for the FSD feature, plus interest and costs.
"My view was that Tesla had failed to deliver on the contract with how they described FSD at the time," Butler explained in the forum post. Just before the case was scheduled to go to court and the first hearing was about to take place, the Model 3 owner was contacted by Tesla with an offer to settle the case outside of court.
As part of the settlement, Tesla paid Butler a little over 8,000 pounds ($9,800) and removed FSD from his Model 3, leaving it with just the standard Autopilot ADAS.
Butler was one of the first UK customers to take delivery of a Tesla Model 3 in June 2019. He says he had ticked the FSD option as he was excited about the feature after Tesla said "the city streets feature was going to be ready by the end of 2019." He was also thrilled with Tesla's 2016 video of a Model X driving to the company's HQ and parking – all autonomously.
"Clearly, history shows they were miles away from delivering on their claim," Butler said. He noted that he based his case on the UK's Consumer Rights Act 2015, section 11 (1), which states:
Every contract to supply goods by description is to be treated as including a term that the goods will match the description.
Tesla's website at the time Butler ordered his Model 3 described FSD as follows:
Coming later this year:

Recognise and respond to traffic lights and stop signs.
Automatic driving on city streets.
Since he bought the car directly from Tesla through its website, any description the company used then was part of the contract, Butler explained, adding that this was the basis of his claim. Since Tesla didn't deliver on the promised FSD capabilities by the end of 2019, this was seen as a very clear breach of contract.
For example, the "Autosteer on City Streets" feature was added to FSD in … September 2023.
"From Tesla's POV, I am the worst type of litigator to take on. I am not a lawyer, but deal with them quite often in my day job so I know enough to put in a small claims action with confidence," Butler said.
"The money wasn't important to me, I felt they'd conned me and I wanted them to do the right thing and put it right. Moreover, because the money wasn't important to me I was never going to sign up to a non-advice/confidentiality clause, I think it's important that my experience is out there for others to form their own views from."
For all the details regarding this case, including documents, check out the forum post on Tesla Motor Club. This is clearly an interesting case since it could lead to other Tesla owners filing similar cases against the EV maker in the UK on the basis of the Consumer Rights Act 2015.
Needless to say, there are many disgruntled Tesla owners in the U.S. who would also like to take the EV maker to court over failure to deliver on FSD claims, so it will be interesting to watch if the UK case will lead to a spike in litigation in the United States as well.
https://www.youtube.com/embed/fIgfpeM64dY?si=QYHfZBc99QVriu9R
Source: Read Full Article