2 months with the 5th-gen Honda City: 9 points that can be improved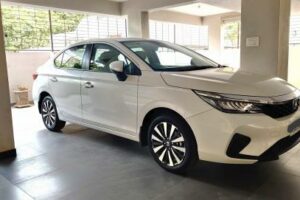 Combined it's all Pros & Cons its a very good car one should buy if long term peace of mind is the primary criteria.
BHPian Strider24 recently shared this with other enthusiasts.
Congratulations on the new car purchase. It is a very good car to own for long terms with a long praised and established ownership experience from hundreds of owners in Team Bhp.
I really liked your final decision criteria 'It's Honda, what can go wrong'. I too made this decision on 21st August and took the leap to buy the exact same variant in Pune. Felt so good to see this gorgeous-looking machine in pictures & to read the awesome features of the current generation of the city from another buyer's point of view. this affirms the decision I made while choosing.
I have a few additional observations/wishes based on the minimal driving I have done in the past 2 months, these are similar to those reported by other owners:
The car ride becomes jerkier between speeds of 30-40 kmph.
Tires are definitely skinny, but the lack of traction is only felt on high-speed maneuvers, unless one is in spirited driving mode, skinny tires don't make any issues for sedate drivers.
However, the NVH levels are horrible( compared to my previous car). For this reason alone I would upgrade to softer rubbers of the same size.
HU sounds Just fine in my opinion & an upgrade is definitely required. I being an audiophile probably will go for an overhaul of ICE in the coming days. but for a normal listener, the door damping and addition of a regular subwoofer will do the work.
Another simple way to improve the listening experience is to play music directly from a USB drive. Honda HU supports FLAC music files which is equivalent to lossless music files. HU sounds much better this way. find music in FLAC format and enjoy the music.
The front seats are comfortable, however, I feel the lack of better under-thigh support and adjustable lumbar support.
My car came with a wireless charger unit as well. it works well but eats up the front cup storage. so it's resting in boot space for now.
We need a height adjustment passenger seat in India. I feel I am sitting on the floor when my wife is driving.
The high beam throw is unimpressive. It hardly illuminates the road in the distance. this is probably due to it being an all-LED unit in the ZX variant. lower variant may report it better which has yellow halogen.
Combined it's all Pros and cons It's a very good car one should buy if long-term peace of mind is the primary criteria. if someone is looking for driving pleasure and fun, they can look elsewhere
Check out BHPian comments for more insights and information.
Source: Read Full Article