Listen To The Koenigsegg Jesko's Engine Make 1,614 HP On A Dyno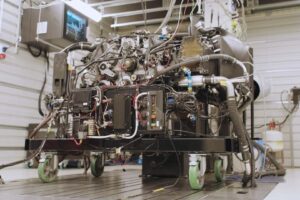 The Koenigsegg Jesko is an incredible hypercar that boasts a twin-turbo 5.0-liter V8 making 1,600 hp and 1,106 pound-feet of torque. To truly appreciate these phenomenal specs, you need to see how much work is necessary for the Swedish supercar maker to build the potent powertrain. In this video, company boss Christian von Koenigsegg offers a tour of the factory, and a highlight is seeing the engine on a dyno.
Before showing what the V8 can do, Koenigsegg starts with a tour of the new environmentally controlled engine and transmission production area. It takes a worker here a week to assemble the automaker's high-tech gearbox that holds the engine starter and flywheel yet still weighs just 198 pounds (90 kilograms).
Gallery: Koenigsegg Jesko pre-production prototype
The Jesko's engine is a similarly high-tech item. Like the transmission, it takes one worker a week to produce a single unit, and there are three assembly stations. Von Koenigsegg is particularly proud of the forged pistons because they have the brand's shield emblem in the center of the combustion area. Another neat touch is that the company 3D-prints the heat-resistant alloy Inconel to form exhaust components before welding them together.
The first dyno run shows the V8 engine running on E85 gasoline. The powerplant creates a wall of noise, and the graph shows it making 1,614 horsepower and 1,174 pound-feet (1,591.3 Newton-meters) of torque, which is slightly higher than the factory rating.
The second run uses E10 95-octane fuel, which von Koenigsegg says is equivalent to 91-octane gasoline in the United States. The brand recommends using 93 octane but tunes for lower-quality gas to provide a safety margin. This time, the V8 produces 1,289 hp and 933.8 lb-ft (1,266 Nm)
Koenigsegg is making just 125 Jeskos, and all of them already have buyers. The hypercar starts at $2.85 million. The company delivered the first one to a customer on May 31, 2023.
The brand is also working on the Jesko Absolut with a goal of exceeding 300 miles per hour. Computer simulations suggest the sleeker body could let the car reach 330 mph, but there are no real-world tests proving that yet.
Source: Read Full Article