25-unit Rolls-Royce Ghost Ekleipsis launched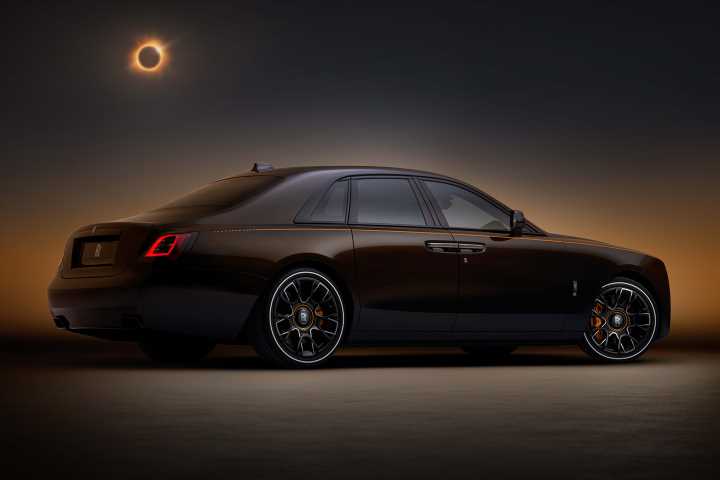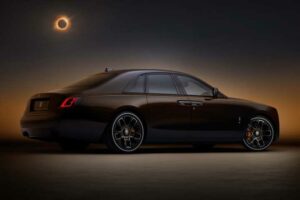 There's a solar eclipse coming to some of the Western Hemisphere tomorrow – and a Black Badge Ghost to mark it
By Matt Bird / Friday, 13 October 2023 / Loading comments
Never let it be said that Rolls-Royce doesn't put 110 per cent into everything. This car is the Black Badge Ghost Ekleipsis Private Collection, there will only be 25, they're all allocated and it is inspired by 'the drama, spectacle and mystery of a solar eclipse.' Now, a lesser manufacturer might have taken that as an excuse to introduce a new colour, or change the interior ever so slightly (or not make a car inspired by a solar eclipse at all), but not Rolls-Royce. Oh no. It's gone to town on the Ekleipsis.
The starlight headliner has become a Rolls-Royce hallmark for many years now; a special edition like this was the perfect opportunity to show what could be done. Once the rear doors are closed and the engine started, a sequence that lasts seven minutes and 31 seconds – because that's the longest a solar eclipse can last – kicks off, replicating a solar eclipse in the headlining of a Rolls-Royce Ghost. Incredible. So best not go anywhere in a hurry. A circle is formed of 940 light 'stars' to represent the light seen around the moon during an eclipse, with a further 192 'stars' there replicating the real stars that can be seen in the sky, during the day, when this incredible phenomenon takes place. Rolls-Royce spent a year getting the animated starlight headliner right, so best watch it every single time.
Also inside the Ekleipsis is a fascia adorned with more 'stars' and more time invested: the 1,846 on the fascia were adjusted and positioned by a single person spending more than 100 hours on them. A Rolls-Royce Bespoke timepiece features in the dash as well, incorporating a 0.5-carat diamond that's once more inspired by the solar eclipse – this time the 'Diamond Ring' effect, that bit where the 'dazzling point of light can be seen on the Moon's outline in the split seconds just before and immediately after it obscures the Sun'. Bit of useful trivia for a Friday morning.
This being a limited edition Rolls-Royce Black Badge, a lot has been invested in the colours and materials. Even the umbrellas in the doors are Mandarin piped. The colour is most obviously also found on the leather (the pattern for which took seven attempts to get right), plus accented outside including the hand-painted coach line. And that exterior paint is not just black for a Black Badge – oh no. It's actually Lyrical Copper, which features powered copper pigment that only really pops when it catches the light. Or produces 'a rich and dramatic iridescence', if you speak Rolls Royce. Note as well the Mandarin under the grille and for the brake calipers.
CEO Torsten Muller-Otvos added: "With Rolls-Royce Black Badge Ghost Ékleipsis, we draw inspiration from a total solar eclipse: a seldom-seen and spellbinding phenomenon that reflects the rarity and beauty of Rolls-Royce Private Collections… We are exceptionally proud to present these motor cars to 25 of our most significant clients around the world – it is these individuals who inspire greatness within our brand, and who drive us to create ever more bold and richly detailed expressions of modern luxury." The launch of these new cars has been timed to coincide with a solar eclipse that'll be visible in parts of the Western Hemisphere tomorrow. Best hope that new animated starlight headliner doesn't spoil the real thing…
---
All-new Rolls-Royce Spectre revealed for 2023
2021 Rolls-Royce Ghost | PH Review
Source: Read Full Article