BMW M2 Competition Gets Minty Fresh 715-HP Makeover From Manhart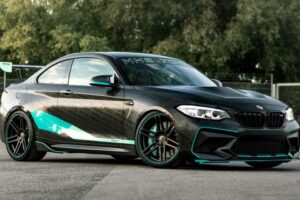 The folks at Manhart Performance are at it again. The BMW M2 Competition you see here doesn't look too wild on the outside, save for a big rear wing and some flashy graphics. However, a keen eye might spot portions of a roll cage through the windows. When something has a cage, it's usually for a good reason.
In this case, there are 715 reasons. That's how much horsepower you get in this modified F87 BMW M2, called the MH2 700. If this seems familiar, it's because we've seen a Manhart MH2 before. That version with Manhart's traditional black and gold livery only generated 630 hp from its boosted 3.0-liter I6 engine, but the new kid on the block is a different animal. The engine receives unspecified "strengthening" that the tuner claims is good enough to support 1,200 horsepower.
Gallery: BMW M2 Manhart MH2 700
Whether that means a new bottom end with crankshaft, rods, and pistons is unclear, but higher up you'll find new turbochargers and pretty much everything else connected to them. That includes intercoolers, piping, exhaust, you name it. There's also a new carbon intake, and to make it all work, Manhart installs a special tune for the Bimmer's ECU.
Fortunately, the engine changes are complemented with clutch, transmission, and differential upgrades to handle the power. For even more performance, Manhart can add racing downpipes while removing other exhaust components that may or may not render the car illegal for street use. On its website, the German-based tuning company advises these changes are only available for models being exported.
A Manhart brake kit is part of the package, featuring 15.5-inch discs with six-piston calipers in front and 15-inchers with four-piston clampers at the back. An adjustable coilover suspension kit drops the car slightly, and of course there is a Manhart body kit. It looks much like the one used for the previous MH2, featuring a CS-style hood with a carbon spoiler at the front. There's more carbon at the rear with the wing, spoiler lip, and side sills. And in case you don't know where this sinister BMW came from, the body wears a Manhart decal set complete with mint trim instead of gold.
There's no mention of cost or a planned production run. Manhart invites interested buyers to reach out for inquiries through the company website.
Source: Read Full Article