My Triumph Speed 400: Real world riding impressions post purchase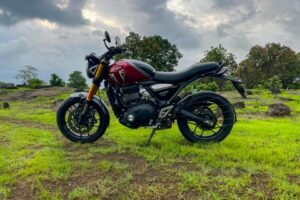 The bike pulls very cleanly and smoothly in first gear from standstill with very little throttle input.
BHPian davelok recently shared this with other enthusiasts.
I took the bike to the Thol Bird Sanctuary outside Ahmedabad this morning. It's about 24km from home and took me about 45 minutes to reach it, primarily because of the numerous speed bumps on the Thol – Shilaj road, which restrict speed effectively.
I didn't carry a camera with me, because this is the lean season for birding there, and I would have paid Rs. 250 unnecessarily for camera fees. I just took a pair of binoculars, some water with electrolytes, and biscuits. It was a peaceful visit – there was no one around, which is why we go out in the first place, isn't it?
The travel to Thol was uneventful. I paced the motorcycle out peacefully. The road inside Thol is unpaved and broken, which makes one feel the need for a proper adventure bike, even though the front suspension on the Speed 400 is plush. The Speed bumps and the bumpy road told me that I need to learn standing up while riding the bike.
After enjoying solitude for a while, I decided to go for a ride to a place called Kanzari nearby. This place used to have some flocks of Blackbucks in the open fields, but a huge number of luxury farmhouse developments have come up on that very land and all around, driving the deer away (and perhaps to their dying out eventually).
As I rode on, I started to enjoy the ride more and more, feeling the bike to be more of an extension of myself rather than the strange steed that I felt I was riding when I took it to work yesterday for the first time.
I guess this happens when one starts to get a feel of the machine,its handling dynamics, engine characteristics, etc. At times, I found myself pushing backwards on the seat rather than the forward seating position I prefer in the city. All those fantasies from thirty odd years ago of riding a Hero Honda CD100 like a sporty machine have started to come to life.
The ride through lush green farms and water bodies was thoroughly enjoyable as I went beyond Kanzari to explore side roads into rural areas. Speed bumps were everywhere and I started to lift my bum off the seat to avoid the, well, bumps when coming off them. I feel a little bit that rider foot pegs need to be longer to be able to stand up safely and comfortably.
While there was nothing really wrong with the bike, I did find it stalling twice in second gear, once with the clutch fully in and once when the engine wasn't even knocking. Plus at lower rpm in third or fourth year, I did feel the engine sputter a bit, which makes me suspect that there might be a fuelling issue – not that it is always present. The bike pulls very cleanly and smoothly in first gear from standstill with very little throttle input. I will watch this carefully and if it's real, I will get it addressed during the first service.
I was generally riding around at 50-60kmph with frequent gear changes. Took the bike to near 100kmph only once or twice. Every time I cross 60kmph, wind starts to roar like a jet engine inside my helmet – possibly because I had removed the cheek pads a long time ago, and now need to find and fix them again.
Yesterday during my return commute from work, I checked the actual speed of the bike with what its speedometer reports. I used an app called GPS Speedometer on my phone (mounted on the handlebar). It seems that the speedo is off by about 10% at 60kmph, so when the needle is indicating 70, the bike's actually doing 65. Good from a safety perspective, but my route has speed control of 70kmph, so I need to be very sure of the margin of error. Anyways I am not a wild rider, but this bike is growing on me and asking me to twist the throttle.
By the way, Triumph India is monitoring this thread and considers what you post here as feedback, asking their service advisors to address it. Good going.
After nearly an hour of riding around, I decided to return home. It was getting closer to lunchtime and I was feeling hot from the sun. Engine heat was quite bearable though.
As time wore on, I found myself trying to sit straighter up taking the stress off my back and palms. The heel of the palms and the right thumb joint started to get sore, leading me to massage them at traffic stops. Perhaps they need some conditioning as I have been a car-only traveller for a long time now.
Despite this slight discomfort, it was a thoroughly enjoyable ride, which would not have been possible in my car. As the weather cools down, migrant birds start arriving, and Triumph gives us some accessories to help carry gear around, I see myself going on more and more of them on the bike.
I'm quite happy that I bought it.
Check out BHPian comments for more insights and information.
Source: Read Full Article