One-of-eight Acid Yellow Clio V6 for sale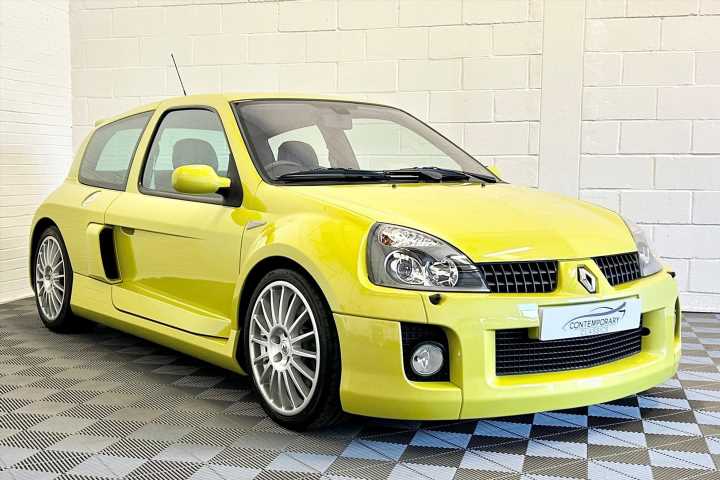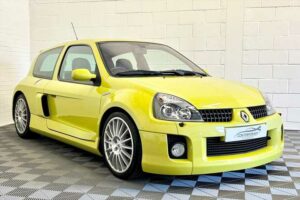 The Clio with the layout of a mid-engined exotic is now worth as much as one
By Matt Bird / Tuesday, 29 August 2023 / Loading comments
There are plenty of cars out there that make the early 2000s seem even longer ago than they actually are. And even more brilliant, it should be said, with such variety on offer. Two decades ago buyers were offered a four-door, four-seat Mazda coupe powered by a rotary engine, a Passat with eight cylinders and even the Lotus Esprit was still on sale (it soldiered on all the way to 2004).
But perhaps nothing best represents the freedom and sod-the-expense boldness of the era like the Renaultsport Clio V6. It was silly enough to look a bit OTT then, so now they seem borderline unbelievable. Especially when you consider that a decent amount were produced, buyers didn't have to be on a special list to get one, and it cost £26,995. The V6 was just another two-seat, rear-drive sports car available to a British car-buying public that probably didn't realise how good they had it. It was 350Z and Monaro money.
The Clio V6 story is pretty well known by now. The Phase 1 car was a bit of a rush job, with the handling traits to show it, but proved there was an appetite for such a crazy little concept from both Renault and buyers. (It's believed that more Phase 1s were made than the later Phase 2.) The updated car from 2003 realised the potential in the Clio V6 idea, with more power from that lusty V6, better-sorted suspension, wider tracks and a longer wheelbase that calmed the drive down without entirely diluting the madness.
You still wouldn't want to try keeping up with a 182 Trophy in a V6, but that was missing the point: this was all about the experience, the joy that could come from a concept as wild as a Renault Clio with a 3.0-litre engine where the rear seats were meant to be. Now one with less wayward handling tendencies, too. Both Clio V6s were much loved across the automotive community, but there was no doubt that the second car was the best of them to drive.
Which has made them the most collectible ones, too, particularly those in cool colours. In the UK, only Iceberg Silver, Mars Red and Illiad Blue were offered for the first generation. The palette was significantly broader for the Phase 2, introducing paint options like Black Gold, Inferno, Lunar Grey and Liquid Yellow. Such is the sheer drama of a V6 that it will garner a favourable reception wherever it goes and however it's painted, but all these years on it's those rare, expensive optional colours that are really in demand.
Ones like Acid Yellow, in fact, of which this V6 is one of just eight UK cars specced this way. Stunning, isn't it? In case a Clio V6 ever needed any more impact, painting it high vis ought to do the trick. And keeping it in absolutely pristine condition. UK car #147 was registered in September 2004 and has lived what must have been a lovely little life since, covering just 13,300 miles and with a substantial history file to accompany it. Prior to sale, it's just been serviced by Clio V6 specialist SG Motorsport, so ought to be in rude health.
Sadly the time has passed for an affordable Clio V6 – they're simply too revered now. As the future looks less and less interesting, so the mad old days seem ever more appealing. And what better representation of that than a highlighter yellow Clio V6? There are very good cars around at the £60k mark, but for the best of the best you'll need to add 50 per cent to that – this one is £94,995. We'd say there's probably no more money to be made on them, then, though folk were probably saying that with the first examples at £40,000 and £50,000. What we do know for certain is that cars as daft as the Clio V6 aren't coming back. And that might be all the persuasion one buyer needs…
---
SPECIFICATION | RENAULTSPORT CLIO V6 255
Engine: 2,946cc V6
Transmission: Six-speed manual, rear-wheel-drive
Power (hp): 255@7,150rpm
Torque (lb ft): 221@4,650rpm
CO2: 285g/km
MPG: 23
First registered: 2004
Recorded mileage: 13,300
Price new: £26,995
Yours for: £94,995
Source: Read Full Article