'My Tesla cost a mortgage down payment – a year later it's on clearance'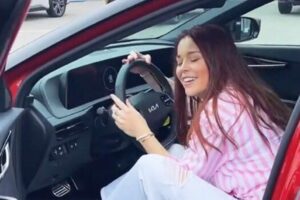 A social media influencer has shared her frustration with the second-hand values of cars manufactured by Tesla.
Erin Robinson typically posts videos to her TikTok page about food and the house that she and her partner are renovating.
However, in one of her short videos, Erin complains about how much money she is set to receive when she sells her one-year-old Tesla.
She said: "When everyone lied about how awesome Teslas were and then you dropped a mortgage down payment on one and it's made of cheap materials and half the "tech" features don't even work most of the time.
"And now they've put your one-year-old car on clearance."
READ MORE: EV owners share their frustration of home chargers as satisfaction rates fall
While prices of used electric vehicles are generally higher than petrol-powered cars, their increase in popularity means values on the second-hand market are falling.
The pricing expert Cap HPI noted that, in July 2023, the average cost of a used electric car fell for its 11the consecutive month.
However, models manufactured by Tesla have been particularly affected during this period as, in January 2023, the company announced significant price cuts across the range.
DON'T MISS…
YouTuber recovers incredibly rare 80s hot hatchback with only 91 others made[INSIGHT]
Drivers told to use Sport Mode sparingly to avoid higher repair bills[ANALYSIS]
Urgent warning over little-known driving law landing drivers with £5,000 fines[REPORT]
We use your sign-up to provide content in ways you've consented to and to improve our understanding of you. This may include adverts from us and 3rd parties based on our understanding. You can unsubscribe at any time. More info
Reacting to Erin's video, viewers were left divided on whether models made by Tesla are good value for money.
One motorist wrote: "I've been saying this for the last few years. The build quality compared to similarly priced gas [petrol] cars is anywhere from barely adequate to abysmal."
However, another stated: "I've had my Tesla a year. I love it as much as I did that first day, she's perfect."
However, Erin's bad experience has not deterred her from driving an electric car, with a more recent video looking at the Kia EV6.
She said: "It was our favourite EV option because of its quality, price, its range of features, and it looks so cool and sleek.
"The test drive was one for the record books, it was so fun. The EV6 can go from 0 to 60 in less than five seconds and its all-electric range is top five in the industry."
Source: Read Full Article