Porsche 718 Cayman GT4 RS Special Edition Celebrates Carrera Panamericana Race Car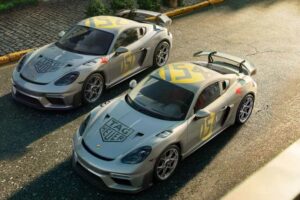 The 911 GT3 R Rennsport wasn't the only world premiere Porsche had over the weekend at the Weathertech Raceway Laguna Seca in California. Attending the same Rennsport Reunion 7 event was a special 718 Cayman GT4 RS of which only two are ever going to be made. The track-focused road car was created in collaboration with TAG Heuer to celebrate the 550 Coupe that raced in the 1953 Carrera Panamericana.
It arrives about a year after the one-off 911 S Cabriolet Panamericana Special was unveiled to mark Porsche's first entry into the Carrera Panamericana in 1952 with the 356 S Cabriolet. The follow-up special car is based on the highest-performing Cayman and will be driven by racing driver/actor/TAG Heuer brand ambassador Patrick Dempsey in the 2023 edition of the Carrera Panamericana later this month.
Porsche 718 Cayman GT4 RS TAG Heuer x Porsche – Legends of Panamericana
Known by its impossibly long name as the Porsche 718 Cayman GT4 RS TAG Heuer x Porsche – Legends of Panamericana, the special edition comes with the "152" and "154" racing numbers respectively on the doors and roofs as a nod to the race cars. Both come painted in Le Mans Silver Metallic complemented by body-colored accents. You might have seen this color already on the 911 Carrera GTS Le Mans Centenary Edition introduced by Porsche France in late June to mark 100 years of the legendary endurance race.
The rear wing's endplates as well as the hood proudly carry the TAG Heuer logo, as do the wheel hub covers of the central lock rims and the air filter box peeking through the rear window. There's also a Pegasus motif as a tribute to the 550 Spyder, one of the first racing cars with stickers from sponsors. This winged horse was part of the Mobil Oil logo back in the day. You can have this as a sticker on other cars as an optional feature from Porsche Tequipment, the division responsible for accessories.
There are more special touches inside the cabin where Porsche applied green, white, and red cross-stitching denoting the Mexican flag. In addition, the door sills are adorned with "GT4 RS Panamericana Special" lettering while the headrests depict an old-school racing driver cap also found on the valve caps. Look between the seats and you'll notice the TAG Heure logo embossed on the armrest.
As a final touch, the car carrying the "154" racing number is a bit more special by featuring a TAG Heuer stopwatch in the center console. You can't buy it separately since it was developed specifically for this 718 Cayman GT4 RS. The "152" car will be auctioned early next year, with the proceeds going to a good cause.
Source: Read Full Article