Purchased a 2017 Street Triple 765 RS: Ownership review after 6500 km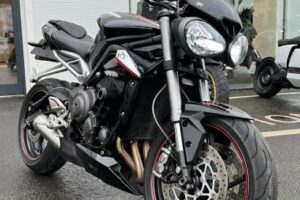 The characteristic whistle puts a smile on my face every time I open the throttle.

BHPian nikhn recently shared this with other enthusiasts.
I will start this thread by saying, some dreams are worth pursuing. One of my dreams was to own a high-performance motorcycle, popularly known as a superbike. My fascination with superbikes started when I saw the mighty R1 in 2006-07 while I was crossing the street on MG Road. The rider was kitted out in all leather and the roar of the inline-4 caught me with my jaw on the floor. However, I knew I had to start from the beginning.
Growing up, I began my two-wheeler journey on a humble Honda Aviator which accompanied me through my university. Then the desire for a sports bike grew when KTM launched the RC200, which ended up becoming my next bike. Quick, light on the pocket and good-looking. What more could a college-going kid want? Moved on to a more comfy Bajaj Dominar when the RC200 became a burden on long commutes to the office in the infamous Bengaluru traffic. The last I saw of that bike was when I left India for higher studies. The only two-wheeler in my life, later on, was an Omafiets. Until now.
Life takes you in different directions. I landed in the UK with nothing in my hands except a job. To start off barebones in this country is challenging. One of my ultimate goals was to own a superbike here. However, realised soon that getting a license was actually the biggest challenge. More about that later. 10 months later, in December 2022, I had the keys to a Triumph. A used 2017 Street Triple 765 RS. 8100 miles on the clock with a clean service history, a year's worth of warranty, a fresh MOT, a full tank of petrol and out of a BMW showroom.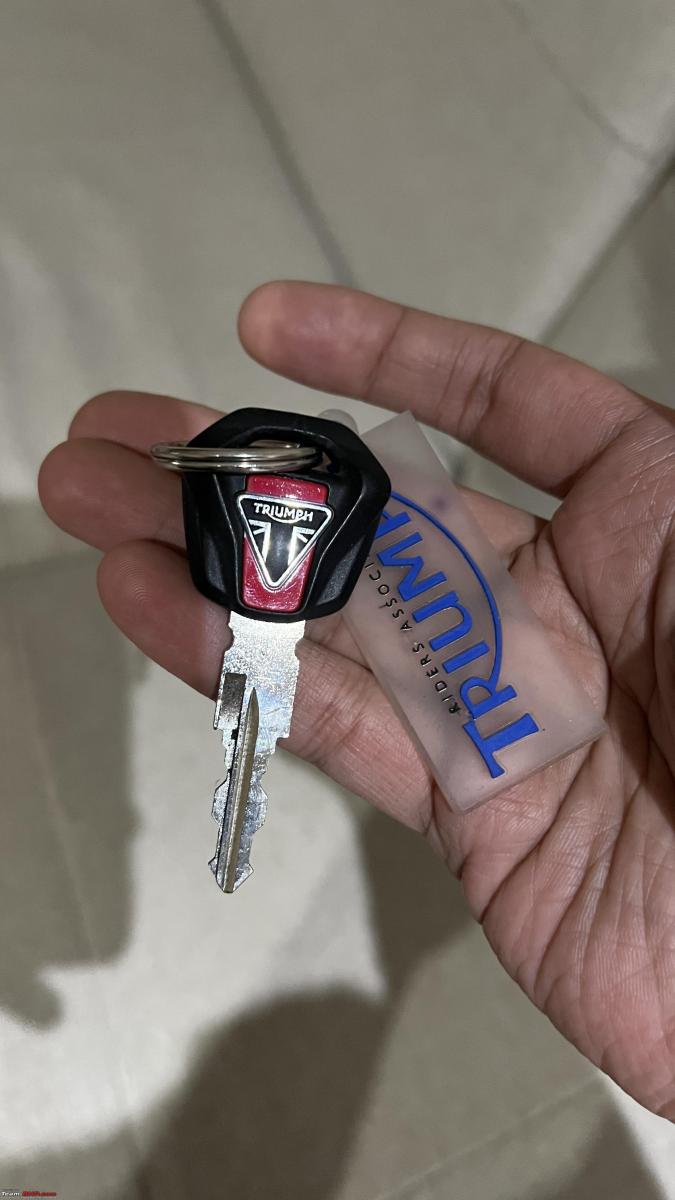 As with all superbike ownership, comes risk, financial burden and the effort in maintenance. Especially when you are not in India, where labour is cheap and rules are lenient (rather convenient). Scouring autotrader for good specimens and calling up dealers was the easy part.
Contents:
Bike Overview
It's been 4000 miles on the bike so far. To give an overview of my experience with the bike, here are the positives and what could have been better with the bike.
Positives:
The triple-inline engine is a true symphony. The characteristic whistle puts a smile on my face every time I open the throttle.
Power is on tap, and clean pulls throughout the entire power band.
Light body makes it easy to flick and manoeuvre. A true pocket rocket.
Really powerful Brembo brakes. So powerful that at times, I am scared to pull the lever hard.
Feature built. Has all the necessary features that a modern motorcycle should have. Quickshifter, TFT screen, riding modes, ABS, TCS, with the provision to add more.
Good headlight spread. Having to ride in the dark during winter times, the twin headlights light up the road pretty well. With the LEDs, they perform even better.
Really good build quality. No plastic rattles or buzzes are audible at any speed.
Extremely light clutch.
Could have been better:
Annoying oil dipstick instead of a sight glass. No idea why Triumph put a dipstick on a bike. It's a hassle to measure the oil level easily without doing gymnastics.
Major service is to be done every 12,000 miles or 2 years and costs an eye-watering 650 GBP at the Triumph SC. Plan to do most of the standard services by myself and get the major ones like the valve clearance checks done at the local garage.
The visor is useless at high speeds. Can install a taller one but would end up spoiling the looks.
Dodgy software on the TFT. The fuel indicator is grossly inaccurate.
Insanely expensive official accessories. The heated grips for example cost around 250GBP, TPMS is around 240GBP and the list goes on.
Vibrations and buzzes above 5000 RPM make the mirrors blurry.
Really weird startup sequence on the TFT. It takes longer to complete the sequence with increasing odo, although you can start the bike once the fuel pump is primed.
Continue reading BHPian nikhn's ownership review for more insights and information.
Source: Read Full Article