Updated Venom 775 still a truly bonkers F-150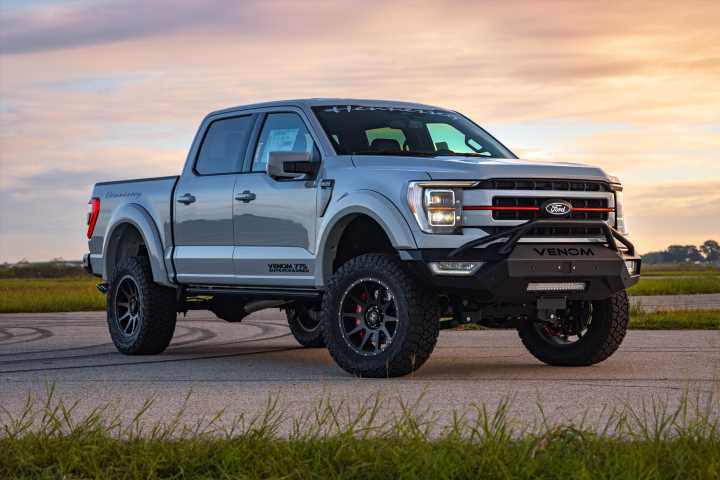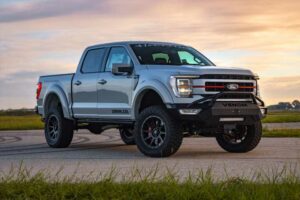 We love the latest Ranger Raptor and marvelled at the Raptor R. But Hennessey still reckons more equals better
By PH Staff / Tuesday, 24 October 2023 / Loading comments
It was just last month that we finally drove the 700hp Ford F-150 Raptor R. As Mike confirmed, it's quite the event, and quick enough to get from 30 to 50mph quicker than a Ferrari 488 Pista (according to the US magazine that strapped a V-box to one). This begs the question, would you really want to go any faster? Hennessey is banking that you would, and had dutifully updated its Venom 775 to fit the latest F-150, thereby endowing it with 75 more horsepower than the Raptor R, plus, yes, 727lb ft of torque.
As before, the Texas-based tuner achieves this total not by tweaking the 5.2-litre supercharged 'Predator' V8 that powers Ford's headliner, but by bolting an enormous 3.0-litre supercharger onto the familiar 5.0-litre V8 'Coyote' V8 that comes with the standard F-150. Throw in an air-to-water intercooler, high-flow induction system and an upgraded fuel system, and, hey presto, you get a cathedral-sized truck that can apparently clock an 11.9-second quarter mile.
Alluding to the point of all this silliness, John Hennessey reckons the Venom has "more than enough power to embarrass stock TRX and Raptor R owners", which we're inclined to believe – although to be honest you'd probably have more fun embarrassing 488 Pista owners. Naturally, the latest 775 benefits from the underlying F-150 update, so it looks marginally sharper than its predecessor, and the tuner still bolts on a 6-inch Fox lift kit with upgraded suspension, and adds 20-inch 'Hennessey' 10-spoke alloy wheels framed by 35-inch off-road tyres. So it ought to live up to the Raptor R's 'Baja' spirit even if it misses out on the specific drive mode.
Production of the Venom 775 is limited to just 250 units, and while you can expect the vast majority of those to stay in North America, Hennessey is keen to point out that the truck is available for global shipping if you really want to push the boat out. The thought of owning an F-150 in this country still boggles the mind a little bit – but you hardly need us to tell you that some plucky souls absolutely do. In fact, there are four on sale on PH at the time of writing, three inevitably at Clive Sutton, with this one – a Shelby Super Snake, no less – being the £157,950 pick of the bunch. Just 750hp though. Shame.
---
Ford F-150 Raptor R | PH Review
Ford's best new car is a pickup | PH Footnote
Source: Read Full Article