Why I chose the Grand i10 NIOS AMT over Celerio, Tiago for my father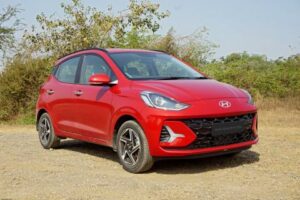 Finally, concluded that for an Automatic car for an elderly user / a novice driver (myself), a new car with is better than second-hand.
BHPian dashki recently shared this with other enthusiasts.
Hi,
I made my first purchase of Automatic Hatchback, thanks to the inputs I gathered on Team-BHP. So this post is to share my decision-making process, hoping it helps others.
Background / User:
My father, who is 80+ years old, has been using a 2011 model of Hyundai i10. It was a second-hand purchase. I was looking to get him an automatic instead. Since it is only for local city drives in Chennai/Blore, we were initially considering a secondhand. The idea was that he would use the automatic and I would take his manual i10 for my use. Once he stops driving, I would sell the manual and take over the automatic.
When I asked people for input, I understood that apart from the budget, another decision-making factor would be featured. When I applied those filters, I eventually realized a new car may make more sense.
Decision-making factors for second hand vs new car:
Only Automatic Hatchbacks (we prefer small cars for city drive)
Budget: started with ~ 5L for second hand, later increased to <10L for new car
Non-negotiable features for my father's use and myself: Reverse camera with guidelines, hill hold assist
Others: Automatic – driving experience, resale value, service centers, NCAP safety rating, etc
I learned on Team-BHP that for an automatic car that is used for more than 20-30k KM, the clutch plate may need replacement / automatic driving experience may not be as good.
Finally, concluded that for an Automatic car for an elderly user / a novice driver (myself), a new car is better than a second-hand.
Which car?
When I started looking around, I had the following under consideration:
Renault Kwid
Maruti Celerio
Tata Tiago
Hyundai Grand i10 Nios
Renault Kwid:
Pros –
1. Really liked the reverse camera with guidelines
2. Look & feel; more spacious for a small car
Cons –
1. My test-drive experience was not good, the brakes felt very jerky even though the car had clocked only 3000 KM
2. I learned on this forum (Should I avoid the Renault Kwid Climber AMT?)that Renault Kwid's AMT experience is not good either.
3. Not so good in terms of safety
Maruti Celerio:
Pros:
1. Value for money, uff! The top minus one variant, with some additions like a reverse camera, made it a great deal.
2. Sales experience: Maruti offered a great discount and I was tempted by it. Overall sales experience was really good and I actually booked the car by paying a token advance (later, got a refund).
3. Automatic driving experience: Since Maruti Celerio has AGS, rather than AMT, the drive was smooth
4. After-sales service & resale value
5. Subscription option available (I was considering this for short-term usage and later decided against it)
Cons:
1. Poor NCAP Safety Rating
2. Look & feel – quite basic
Tata Tiago:
Pros:
1. Best NCAP safety rating in this segment
Cons:
1. Service
2. Resale
3. Automatic driving experience not smooth (as per inputs from this thread (Tata Tiago Vs Maruti Ignis Vs Hyundai Grand i10 Nios | City car for my wife))
Hyundai Grand i10 Nios
Pros:
1. Premium look & feel
2. Service
3. Better NCAP safety rating than Maruti Celerio (my next best alternative in the consideration list)
4. Smooth Automatic driving experience (as good as / comparable with Maruti Celerio)
5. Cruise Control is available in the top minus one variant itself
Cons:
1. Significantly more expensive than Renault / Maruti
Verdict / Decision:
I got my Hyundai Grand i10 Nios Sportz automatic delivered 2 days back. It feels so easy, and casual to drive in this. I'm excited about this purchase and looking forward. I am grateful to this forum for having helped with all the information that influenced my purchase decision. Thank you.
Check out BHPian comments for more insights and information.
Source: Read Full Article