Why I chose the TVS iQube over its rivals: 7 likes & 7 dislikes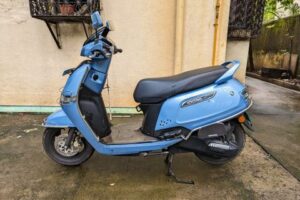 TVS has nailed the essentials of an ideal family scooter with the iQube S: a dependable headlight setup, comfortable ride quality, large & flat footboard, practical mirrors, and a functional boot.
BHPian Venky03 recently shared this with other enthusiasts.
Prelude:
I already own an electric bike for leisure rides, but there was a definite need for a reliable electric scooter to handle family errands. Ather and Ola were immediately ruled out because it wasn't me but my family deciding on the model. The iQube S was shortlisted and we pre-booked it on 8th November 2022.
Booking Experience:
The booking experience was quite straightforward, as it was entirely online and divided into simple steps. The booking amount was ₹5000 and we had booked the Mint Blue color.
Delivery Experience:
For a reputed brand like TVS we did not expect such pathetic pre-delivery experience. I've explained the experience in detail here . Summarizing in short : Received a call from Supreme Motors on December 31st to pay the full amount due to FAME-II subsidy. Expected scooter delivery by January 20, 2023. No scooter for weeks, internal blame-shifting between branches and iQube support response was: "Wait for 120 days, we can't help." without generating any support ticket. After the regional manager's intervention, my delivery was redirected to the Nerul branch, about 20 km away from my place. I eventually took the delivery of the scooter on April 11th, nearly 3 months past the initial promised date.
I was utterly disappointed with how both TVS Supreme Motors' Thane and Ulhasnagar branches handled the issue and would not recommend them for TVS purchases. Additionally, it's baffling that iQube's customer support lacks a basic ticket number generation system in place. On a positive note, Litra TVS managed the registration process seamlessly without pressuring me to purchase any additional accessories.
TVS iQube S
Pros:
Solid build quality
Comfortable seat with enough space for pillion
Reliable DTE predictions
Suspension perfectly tuned for city conditions
Excellent headlight setup
Braking doesn't cutoff motor
Minimal idle battery drain
Cons:
Overly aggressive regen
Delayed throttle response
No fast-charge
Hub motor overheats during long rides
Black glossy plastics prone to scratches
No free services
Buggy application
Rear drum brake
Exteriors: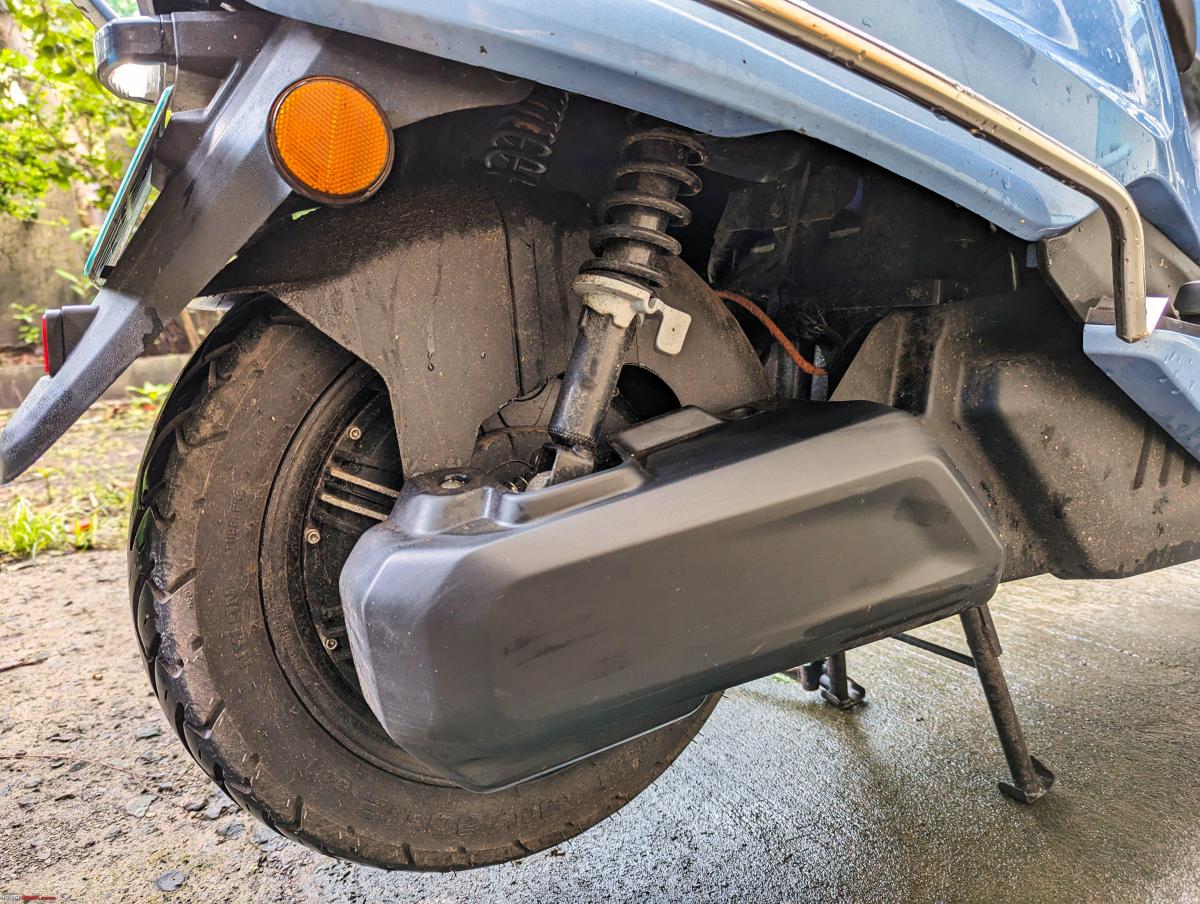 The TVS iQube S is essentially the electric variant of the TVS Jupiter, sharing a familiar design that blends in well with the conventional ICE scooters. It stands out with its unique DRL setup, and while the black glossy plastics offer an appealing contrast upfront, they are susceptible to scratches. There are visible panel gaps here and there but the overall riding experience feels solid, and I have not encountered any creaking or rattling sounds so far. There are two hooks(plastic) to secure bags kept on the footboard.
The charging port is also placed on the front and is protected by a very flimsy cover without any rubber seals. Also the warranty explicitly states that :
9. The flap has been designed to prevent water entry inside the charging port and is not replaceable. No warranty for charger is applicable in case of flap damage.
Which is very confusing and concerning at the same time. Why is the flimsy flap(which will most certainly break at some point) not replaceable?
Moving on to the instrument cluster, it's clear and easily visible during the day. It doesn't offer a lot of information, you can navigate through settings menu with a single HMI switch. They missed out on including the Wh/km stat, and the display flickers during mode switches(ride > regen > ride). The turn-by-turn navigation and phone notification feature hasn't worked for me with two different phones and the app requests numerous intrusive permissions(microphone, camera, location, storage) and won't connect to the scooter.
Switch quality is decent, and they've held up well even with the scooter being parked in the open during the monsoons, time will tell how they perform in the long run. The rearview mirrors are fantastic – they're big, rectangular, and practical. Small vents are placed near the footboard and on both sides of the scooter to assist in passive cooling of the battery packs and MCU. Rear brake light setup is led and looks sleek, on the top of rear brake light there's big unnecessary Q-Park Assist badging. Overall the iQube's design is practical and well-integrated, with no elements looking out of place.
Note : The body guard, ladies foot-rest and main stand are optional accessories and are not included with the scooter.
Boot:
The 32 litre boot can be accessed by the traditional key twist method. It can easily accommodate most half-sized helmets and some smaller full-sized helmets. The seat also has the standard elastic strings underneath that secure the med-kit and mini tool-kit. Won't recommend storing the charger in boot, as it will take up most of the available space :
The USB port's placement is quite awkward. Will recommend to use an L-shaped USB cable to avoid damaging it if you need to plug it in often.
Continue reading BHPian Venky03's ownership report of his TVS I-Qube for more insights and information.
Source: Read Full Article