See Ferrari 250 GTO Become Fireball Due To Engine Explosion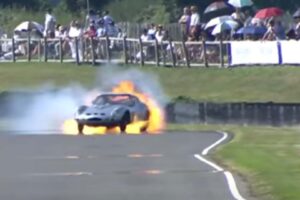 Former Formula One Driver Karun Chandhok experienced a scary moment while driving a Ferrari 250 GTO during the Goodwood Revival. The iconic race car exploded and spun 365 degrees. Chandhok was able to pilot the vehicle safely onto the grass. He escaped the car without any serious injuries.
"So part-way around, I was just thinking to myself, 'how cool is this? I'm in a GTO at Goodwood,'" Chandhok told the Goodwood website. "Then coming out of Lavant onto the straight – I was in second and cruising – I heard a bang and the back wheels locked up. As I turned I saw flames, so I got right off the track safely, to minimize oil going down and get out of the way."
The 250 GTO's engine failed due to an unknown internal problem. The issue was large enough to blow a hole in the powerplant. The fireball came from the expelled oil hitting the hot exhaust pipes. The onboard fire extinguisher quelled the blaze. The owner says his crew is now investigating the cause.
Chandhok said the owner wasn't upset about the incident and was happy the driver was safe. The plan is to put the 250 GTO back together and bring it back to future events at Goodwood.
The driver tweeted (above) a photograph showing his melted boot. The only significant damage appears to be to the toe.
Chandhok was taking part in a race called the Lavant Cup. It was specifically for Ferrari GT cars from 1960 to 1966. Sixteen cars took place in the event.
He raced in Formula One in 2010 and 2011. He was with HRT the first year and raced for Team Lotus the following season.
Ferrari built just 36 original 250 GTOs with a 3.0-liter V12 engine plus three 330 GTOs with a 4.0-liter V12. The cars were technically road-legal but with a spartan cabin like cloth seats and no speedometer. The automaker meant for them to excel at racing. They found massive success at the track, including multiple GT-class competition wins from 1962 to 1964.
Today, the 250 GTO is among the most valuable cars in the world. An example brought $38.115 million at auction in 2014.
Source: Read Full Article