2024 Skoda Superb And Kodiaq Interior Revealed: Big Screen, Buttons, Knobs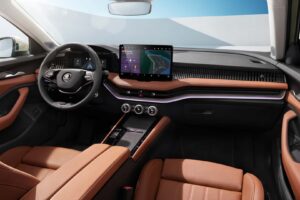 Ahead of their premieres scheduled for this fall, the next Skoda Superb and Kodiaq reveal their all-new dashboards providing a mélange of modern and traditional. Although the two cars get a massive display like so many other new models, you still have a few conventional buttons flanked by three rotary dials with built-in screens featuring a 1.25-inch (32-millimeter) diagonal. These are known as Smart Dials and provide access to various settings.
The functionality of the small screens depends on the level of equipment. The two outer rotary push-buttons control the interior temperature as well as the seat heating/ventilation for the driver and front passenger. The one in the center has several functions, including volume, fan speed, air direction, smart AC, map zoom, and driving modes. Pressing down on the central dial allows the user to switch between functions, and it can be configured through the infotainment's menu.
2024 Skoda Superb and Kodiaq interior
Speaking of the infotainment, the 2024 Superb and Kodiaq get a 13-inch touchscreen as well as a 10-inch digital instrument cluster complemented by a head-up display. One of the most important changes compared to the outgoing mode is the position of the gear selector since it has been relocated to the steering wheel column. Doing so has enabled Skoda to clean up the area between the front seats and improve storage.
In case you can't tell which is which, the Superb is the one with the vertical fins on the dashboard and "hidden" air vents whereas the Kodiaq has more leather on the passenger side of the dash along with vertical vents. The LED ambient light strip goes below the central air vents on the liftback/wagon and over it on the SUV. Both have a USB-C port in the rearview mirror as well as smartphone wireless charging at 15W, with the Kodiaq offering active cooling for two devices.
In typical Skoda fashion, there's a dedicated area in the front door to store an umbrella. There are up to four USB-C ports with a 45W power output, an ice scraper, eco-friendly, massaging seats, and upholstery made entirely out of recycled polyester.
The Superb and Kodiaq will go on sale in 2024 and are likely to be the company's last new ICE cars.
Source: Read Full Article