Strangest reasons behind used car sales uncovered as more buy second hand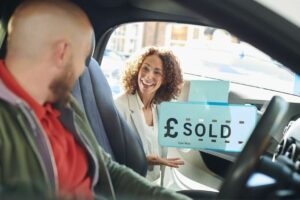 The new and used vehicle marketplace Auto Trader has revealed the quirkiest reasons why motorists sell their car.
Drivers who often buy used cars will be familiar with statements such as 'reluctant sale' or 'new baby forces sale', however some sellers like to be a little more creative when it comes to putting their vehicle on the market.
Erin Baker, Editorial Director at Auto Trader, noted that the emotion that some buyers put into the description of their car's advertisement reflects how they felt about owning it.
She explained: "Cars are personal to millions of Brits with many having fond memories and experiences of their vehicle, whether it was their very first car or one they currently use in their day-to-day life that they see as their pride and joy.
"Life changes such a new job or house, an expanding family or breakups mean that individuals have to part with their beloved vehicles. It comes as no surprise then that some Brits' love, emotion and personality come through in their car ads, which they feel a strong attachment to!"
Whilst many young motorists greatly appreciate it when a parent of family member gifts them with a new set of wheels, Auto Trader highlighted that one son was unimpressed with a particular car.
One motorist, who was selling a sporty black Audi A3 Sportback, explained that they were getting rid of the model as their son didn't want it.
They wrote: "Advertised on behalf of son who works away as he has no manners and is ungrateful."
Don't miss…
'I'm a mechanic – I'll only buy cars from this one brand, they are so reliable'[INSIGHT]
Urgent safety warning issued to EV drivers and SUV owners[REPORT]
Best motorway service stations in the UK ranked[ANALYSIS]
At some stage, many motorists are forced to sell a car that they enjoy in order to make money for other aspects of life.
Auto Trader highlighted that one driver put their Mercedes-Benz GLE Class SUV for sale to help them fund a new business, after getting annoyed by their colleagues.
The seller said: "Selling my pride and joy as [I'm] fed up working for and with idiots so starting my own business."
We use your sign-up to provide content in ways you've consented to and to improve our understanding of you. This may include adverts from us and 3rd parties based on our understanding. You can unsubscribe at any time. More info
However, whilst some motorists are sad to see their car go, others cannot wait to see the back of their last vehicle.
Another seller wrote: "Would ideally suit some driveway mechanic who's good with a set of spanners, take it home for the kids to play with or just buy it to annoy your neighbours.
"Suitable for multiple purposes, ideal for picnics when you break down. For more info contact Dodgey Dave."
Source: Read Full Article