See Beat-Up Box Truck Transform Into Budget Stealth Camper For $700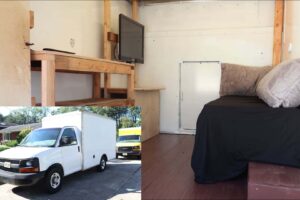 We often see campers that cost well over $100,000. But, if you don't mind things being basic, it's possible to spend significantly less. This guy built a motorhome for just $700 and in a mere four days.
Granted, this builder got the Chevrolet box truck for free, significantly reducing the build's price. The vehicle belonged to the current owner's dad, who used the rig as a work vehicle. The first task is cleaning out the interior.
The builder also has access to his dad's tools, scrap 2x4s, and plywood. He repurposes a bookshelf and builds a bed frame. There's nothing fancy here, it's just a bunch of wood with screws holding everything together. The mattress is simply a piece of foam.
The kitchen is no more complicated. It consists of a piece of plywood with a hole cut into it to make a plastic bin fit. The result looks rough but is functional.
He paints the walls with spray paint and uses patio paint to cover the floors. The lighting consists of strands of LEDs. A Craftsman jump box provides the power for the small space.
There are certainly a lot of compromises with this build. There's no insulation, so this rig could get uncomfortable in the hottest days of summer or the coldest parts of winter, depending on where you live. The electricity supply seems very limited. There's no bathroom, shower, or cooking setup.
Still, this truck might work if you need a place to stay overnight. And, with the initial investment being so low, there's still room to put more money into this project.
We have seen other box trucks receive camper conversions, and some of them have been impressive inside. For example, one person took a white 2007 Isuzu NPR as the starting point for a luxury build. The price of the creation was still fairly reasonable at $54,000. 
Another build used a Mitsubishi Fuso for an even more extensive creation. It has a pair of doors and solar panels on the roof. Inside, there's a kitchen with gorgeous countertops.
Source: Read Full Article